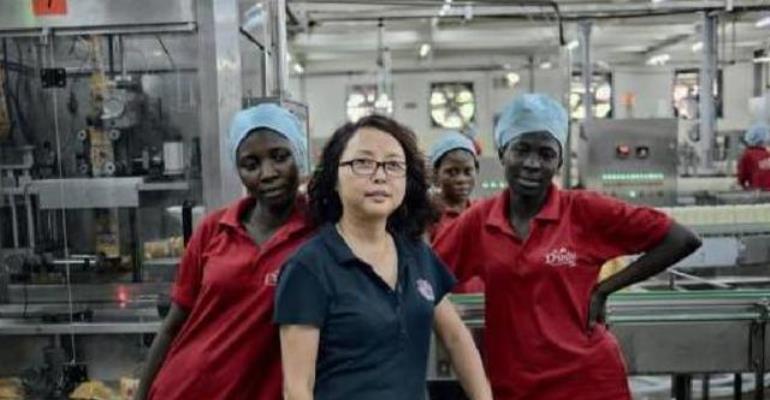 Training Africans in China is one of the ways to improve Africa's economy.
[Joel Savage] Was China praying for Western colonization in Africa to come to an end? It is obvious that during the colonial era in Africa, the Chinese were training, sharpening their skills and getting prepared to take over because they saw the African continent the right place they could depend on to make China rich by developing Africa.
China's interest in Africa is often said to be based on a strong desire to open up colonies. The front page news in Western newspapers exclaimed that with the support of the wealthy and powerful Chinese government, Chinese companies will sweep Africa's business opportunities, which is not good for Western companies and local businesses. Given these new developments, is it possible for Africa to benefit from China's growing investment in Africa?
Africa's market now over flooded with "Made in China" goods, and it seems that every Chinese construction worker is seen on a construction site, it is easy to conclude that China is taking over Africa and developing in Africa. The colony, but it is easy to forget that China's goods and labor can enter the African market amicably, rather than following the historical colonial model – that is, the Chinese government's warships drove to the African coast, forcing African governments to accept the trade.
In fact, it is possible for Chinese goods and companies to enter Africa because a series of actions by the WTO over the past two decades have reduced trade tariffs and opened up the African market. Therefore, what makes people laugh is that instead of China pursuing colonialism, the WTO has set up a competitive market for Africa, which has become an attractive opportunity for China.
During his visit to the African Union in 2014, Chinese Premier Li Keqiang announced that China expects annual bilateral trade with Africa to reach 400 billion U.S. dollars by 2020, and China's stock of direct investment in Africa will increase to 100 billion U.S. dollars. China's investment will be mainly in the field of infrastructure construction and through various lending institutions in China, including the newly established BRICS Bank. This kind of investment from China continues to create opportunities in various industries.
For example, in African price-sensitive markets, telecommunications infrastructure has become very dependent on Chinese technology. Compared with the technology of Western competitors, Chinese technology is competitive in price, durable, and has strong after-sales service. Similarly, Chinese construction companies can overcome difficulties and deliver roads and bridges in a way that Western companies and even local companies cannot match. However, Chinese companies do not always do the right thing.
China's Ministry of Commerce estimates that China's foreign direct investment has a loss of 65%; in contrast, the international standard for this ratio is 50%. Chinese companies have just begun to invest overseas. The Chinese government announced the "going out" national policy in 2000, and most Chinese companies are still in the steep learning curve of learning how to operate in an unfamiliar international environment.
When describing China as the new colonial power of Africa, what the Western media often overlook is the extent to which China needs Africa. As a growing economy, China needs Africa's energy, resources and access to African markets. As a rising power, China needs the political support of African leaders as a bastion against the West.
From an African perspective, China's investment – especially in the basic infrastructure sector – is very popular. It is estimated that the infrastructure gap in Africa is as high as $900 billion: without the availability of potable water, roads adapted to various climates, adequate electricity, and reliable communication systems, the African economy cannot thrive.
China's commitment to basic infrastructure investment will lay the foundation for children to go to school and companies to trade. But the arrival of China will bring challenges. In the past two decades, "Made in China" products have had a devastating impact on local manufacturing. For example, textiles from China have severely weakened the textile industry that South Africa once thrived.
However, African countries such as Ethiopia have recently seen the benefits of increased investment by Chinese manufacturers. The Chinese women's shoe manufacturer Huajian Group has increased the number of local employees from the initial 600 to 3,500 in a few years.
Despite the shortcomings of Chinese companies' employment and environmental protection and their competition for local companies, as long as Africa seizes the opportunity, more and more Chinese investment in the next few decades will be on the African economy and people to provide a net positive gain.
Africa's resources serve other countries in development and employment but the continent hardly gains or benefits from its own resources. How long can this continue? And after China who is the next to benefit from Africa? Africa must find a way to use their own nationals to develop the continent after nationals secure training in agriculture, industrial and the construction sectors in China.
SOURCE: Why China Now Unofficially Becomes Member Of The African Union?
https://www.modernghana.com/news/896539/why-china-now-unofficially-...