From 1963 Civil Rights March on Washington to 'Bringing Foreskin Back' Today, She Wowed Crowds at NYC Pride 2016 with Foreskin-Friendly Messages. Now, She's Intact America's Intactivist of the Month for August 2016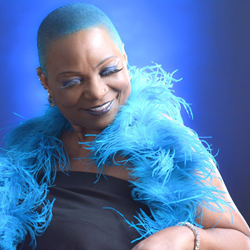 It was impossible to miss Intact America's latest Intactivist of the Month in all her blue-festooned glory in the 2016 New York City Pride Parade on June 26. There she was, jazz singer, songwriter, and storyteller Ms. Blu, standing atop the Intact America float and singing her own foreskin-friendly lyrics to hit songs
I was born dark brown, perfect and beautiful, with no need to be ashamed or to change a thing," she proclaims. "So it is with the bodies of all the babies and children and the adults they'll become.
With her bold, soulful, sexy voice, Ms. Blu's words to the Donna Summer hit "Hot Stuff," became "Looking for some foreskin, baby, this evening!" To Marky Mark's punchy "Good Vibrations," she added the lyric: "foreskin—it's a great sensation!" Justin Timberlake may take credit for "SexyBack," but Ms. Blu sang, "We're Intact America, and we're bringing foreskin back!"
Her brash courage and dedication to advancing human rights, forged in the Civil Rights movement of the 1960s and blazing now as brightly as ever, earned Ms. Blu (Audra Berger is her off-stage name) recognition as Intactivist of the Month by Intact America, the largest national organization advocating against involuntary circumcision of baby boys and a healthy sexual future for all people.
"Ms. Blu brought stunning visual and musical dimensions to our New York City Pride float this year," says Georganne Chapin, executive director of Intact America. "From her perch high above the crowds, with her gorgeous blue visage, lusty shout-outs, and foreskin-friendly improvs, she was a force to be felt by hundreds of thousands along Fifth Avenue all the way to Greenwich Village!"
Ms. Blu joins a list of dedicated Intactivists that includes victims, survivors, celebrities, doctors, nurses, mothers, and fathers who all speak out against circumcising baby boys. Each month, the organization celebrates an outspoken advocate committed to educating people about the real risks of the circumcision for babies (including pain, surgical complications, future diminished sexual sensation, and even death) and the protective and pleasure-enhancing roles the foreskin plays in the lives of grown-ups.
A Recent Convert to Intactivism
Ms. Blu threw her support behind Intact America this spring after speaking to David Grant, whom Chapin calls "the incredible volunteer organizer of the annual intactivist presence in NYC Pride." Ms. Blu says, "When David spoke with all his love and passion about the injustice inflicted on baby boys in this country, and told me about what Intact America is doing to end that injustice, my heart said 'Yes!'"
"I was born dark brown, perfect and beautiful, with no need to be ashamed or to change a thing," she proclaims. "So it is with the bodies of all the babies and children and the adults they'll become."
The vocalist has been a life-long activist for human rights, and her activism was born at the same time her talent began to flourish. A child prodigy, Ms. Berger made her singing debut at age 12, performing in dive bars in Peoria, Illinois, where she grew up. Six years later, she had made such a name for herself that she opened for Marvin Gaye at the Aragon Ballroom in Chicago. Since then, she has continued to perform, mostly in New York City, and to write songs about her personal journey as an artist and about her political passions. (Find her athttp://msblu.us.)
Growing up in Peoria was tough "for a little dark-skinned 'Negro' girl like me," she recalls. Living in a neighborhood that was mostly white, she was made to feel ashamed of her color by white and black people alike.
When her family moved "downtown," things changed.
"I saw the local NAACP demonstrators, black and white, singing and going to jail for the right of African-Americans to be black, proud, and gainfully employed," she says. "I knew I had found my people, and myself. I got deeply involved and began to lead crowds in singing freedom songs, like 'Ain't Gonna Let Nobody Turn Me 'Round,' 'We Shall Not Be Moved!' and 'We Shall Overcome!'"
In 1963, when she was 13, she took her budding activism to the great March on Washington. To this day, she recalls an unforgettable experience.
"I kept singing the freedom songs on the bus and was so happy and free!" she says. "When we got to Washington, I remember it was early and the sun had not come up yet. It seemed like I just blinked and when I opened my eyes, people of every color and race and religion were all around me."
She felt much of the same exhilaration at NYC Pride. "Throughout my life and career, I've never stopped believing in the power of music, lyrics and love to make the world a better place," she says. Ms. Blu vows to return for the parade next year, and each year after that "for as long as it takes to assure all Americans the rights to an intact body."
"It's time for doctors, politicians, the uninformed, and religious leaders to stop trying to circumcise America! 'We the People' are all perfectly whole."
About Intact America
Intact America is the largest national advocacy group working to end involuntary circumcision in America, and to ensure a healthy sexual future for all people. Intact America is based in Tarrytown, New York. For more information, visit Intact America at intactamerica.org, onFacebook, and on Twitter.
Media Contact: Jeannie Ashford, Harrison Edwards PR, jeannie(at)harrison-edwardspr(dot)com 914-242-0010 x 103