An Afternoon Dedicated to a "Legacy of Empowerment"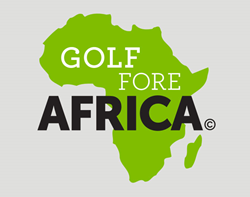 Golf Fore Africa will host its Second Annual "Strong Women, Strong World" Luncheon on September 23, 2016 at the Balboa Bay Resort in Newport Beach, California. This year's theme "A Legacy of Empowerment" takes a close look at the powerful effect that women have on the lives of other women and the monumental differences that can be made by the inspired actions of even a few individuals.
Featured speakers Doug and Pat Treff, along with their daughter Abbie, will share their inspiring personal testimony of commitment to serve the needs of families in Africa and how their actions have become a living example to the members of their own family and community. Also featured is Mutinta Chiseko of World Vision Zambia, who will share the tremendous impact Golf Fore Africa has had on women living in rural villages.
"We are thrilled at the movement Golf Fore Africa has created to encourage change in the lives of women, children and families in Zambia," says Betsy King, Golf Fore Africa Founder. "When women and girls are given the opportunity and resources to thrive and care for their families, their children have the chance to enjoy a healthier childhood and a brighter future – a change that bears fruit through generations. The Strong Women, Strong World Luncheon is an exciting event that supports our goal to act now in order to secure a better future for the world's girls and women."
This year's event will once again feature the popular African Marketplace where guests will enjoy a unique shopping experience. One-of-a-kind items will be showcased and guests will have the opportunity to support businesses committed to empowering women.
Since 2007, Golf Fore Africa has brought awareness to issues facing women and girls in Africa. Golf Fore Africa has raised over $5 million to support programs and to cultivate a movement of women and men in the United States who are committed to restoring dignity to women and girls in order to create a stronger world for all people.
"By empowering girls and women to change their stories, we can help change the future – creating an environment in which they are respected, valued and equipped to transform the world by helping to solve the challenges in their own communities," says King. "By empowering girls and women to change their stories, we can help change the future."
The benefit luncheon is open to the public and starts at noon, with tickets beginning at $150 per person and $1000 per table of 10. Additional sponsorship opportunities are available. For more information or to purchase tickets, please contact Sue Sauncy (480) 284-5818 or sue(at)golfforeafrica(dot)org.
About Golf Fore Africa
Golf Fore Africa is a 501(c)3 non-profit charity dedicated to bringing hope to children and families living in extreme poverty in Africa by empowering the golf community to support transformational programs that holistically enhance the families they serve.
Golf Fore Africa was founded in early 2007 by LPGA Hall of Fame Golfer Betsy King following a 2006 trip to Africa.
For more information about Golf Fore Africa, please visit http://www.GolfForeAfrica.org Join the Golf Fore Africa social media community on Facebook at http://www.facebook.com/GolfForeAfrica and on Twitter at @GolfForeAfrica.
Newport Beach, California (PRWEB) August 25, 2016