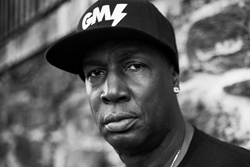 Hip Hop virtuoso Grandmaster Flash will headline festivities for Bryant Park's second annual Barefoot Ball dance party on Wednesday, July 26, from 7 PM to 11 PM at the Midtown Manhattan urban oasis.
Tickets can be purchased at barefootball2017.splashthat.com.
A living legend, Grandmaster Flash is one of Hip Hop's original innovators, perfecting the turntable art-form known as the "Quik Mix Theory," which includes techniques such as cutting and scratching which led to record-sampling and beat-looping. His character in the Netflix series, The Get Down, introduced him to a new generation of fans.
In addition to experiencing an electric live show by Grandmaster Flash, guests will enjoy an open bar featuring a variety of craft beers and wine, food for purchase from notable NYC restaurants, and snapworthy activities on the lush lawn. Grandmaster Flash's performance is curated and presented by Bryant Park's neighbor, WeWork.
This year's Barefoot Ball coincides with the celebration of the 25th anniversary of Bryant Park Corporation, the private non-profit organization responsible for rescuing what was once a blighted public space. Bryant Park is completely self-sustaining and does not receive public funding or endowments.
"This year's Barefoot Ball provides a great vehicle for celebrating our 25th anniversary, and for the public to participate in an occasion that will mark this milestone," said Dan Biederman, executive director of Bryant Park Corporation. "And we're honored to have Bronx native Grandmaster Flash at the helm."
General admission "Barefoot Baller" tickets are $75 and include access to the event and open bar. VIP "Barefoot Boss" tickets are $200 and include open bar, food vouchers, and access to a dedicated VIP area. "Barefoot Bungalow" packages are $2,500 and include admission for eight with open bar, food vouchers, access to the VIP area and a private bungalow with table service.
About Bryant Park
Celebrating its 25th anniversary this year, Bryant Park Corporation (BPC), a private not-for-profit company, which was founded to renovate, finance and operate Bryant Park. It is funded by income from events, concessions and corporate sponsors, as well as an assessment on neighboring properties, and does not accept government or philanthropic funds. In addition to providing security and sanitation services, and tending the park's lush lawn and gardens, BPC provides public amenities and activities, including movable chairs and tables, café umbrellas, restrooms, restaurants and food kiosks, and more than 1,000 exciting free public events throughout the year.
About WeWork
WeWork is the platform for creators. We provide beautiful workspace, an inspiring community, and meaningful business services to more than 100,000 members around the world. From startups and freelancers to small businesses and large corporations, our community is united by a desire for our members to create meaningful work and lead meaningful lives—to be a part of something greater than ourselves. Co-founded by Adam Neumann and Miguel McKelvey in New York City in 2010, WeWork is a privately held company.
About Grandmaster Flash
Emerging from the South Bronx in the early 1970s, Grandmaster Flash is inarguably one of Hip Hop's original innovators. In the earliest days of the genre, he manipulated music by placing his fingers on the vinyl, perfected beat-looping, and discovered many of the most iconic beats still commonly sampled today. It's no surprise that The New York Times calls him Hip Hop's first virtuoso. Today, he's the voice of an entire generation of 1970s hip hop pioneers. From his electric live shows, to his production role on Netflix's The Get Down, Grandmaster Flash is at once a historian, a storyteller, and a cultural force.
NEW YORK, NEW YORK (PRWEB) JUNE 01, 2017